PTK announces new fall semester student inductees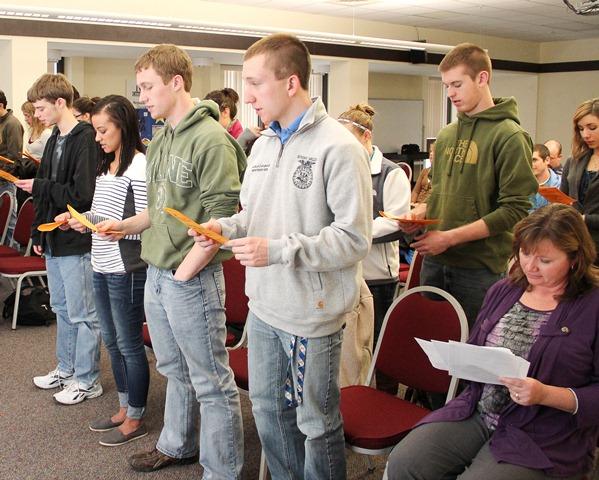 Inductions were held in both an informal afternoon ceremony and a formal evening ceremony that included Director of Community Relations and Development, Fran Brolley, as guest speaker and was followed by a fellowship reception.
Established by two-year college presidents in Missouri in 1918, Phi Theta Kappa International Honor Society has grown into  the largest honor society in American higher education with more than 1.3 million members and 1,200 chapters located in all 50 states, U.S. territories, Canada and Germany.
PTK recognizes and encourages the academic achievement of two-year college students and provides opportunities for individual growth and development through honors, leadership and service programming. In 1929, the American Association of Community Colleges recognized Phi Theta Kappa as the official recognized honor organization for two year colleges.
PTK president is Tabitha Darnell of Princeton. Vice-presidents are Addie Margis of Cedar Point, Layne Zens of Granville, Jessie Winchel of La Moille, Ahmed Seyam of Lostant, Abby Jeppson of Peru and Braiden Skinner of Wenona. PTK faculty advisors are LeeAnn Johnson and Eric Schroeder, IVCC biology instructors.
Inductees include:
Bradford: Michael Lotspeich;
Cedar Point: Joshua Doerle;
Dalzell: Ali Braboy;
DePue: Jennifer Wick;
Grand Ridge: Amy Zellers;
La Salle: William Duncan; Maribel Guerrero; Angie Muzzarelli; Lindsay Reidies, Katherine Twardowski;
Magnolia: Ann Marie Morse;
Mark: Maria Garrido; Mia Serafini;
Mendota: Ashley Rosales;
Oglesby: Ashlee Heider, Kaylee Sienza;
Ottawa: Maryssa Adams, Amanda Brewer, Stacey Covington, Amy Decker, Suzanne Faxon, Duncan Goodchild, Lynda Hernandez, Miranda Kincade, Nathan Klaassen, Alan Ramirez, Rebecca Sabo, Jordan Saleda, Saralyn Simpson, Sean Tellefson;
Peru: Anthony Bubb, Emma Busken, Tiffany Harris, Kimberly Jenkins, Joe Sydlowski;
Princeton: Jamie Sloan;
Ransom: Lauran Widman;
Seneca: Taryn Ortiz, Kendra Rasmussen;
Sheridan: Erin Palas, Ryan Searl;
Spring Valley: Ashley Gonzalez, Hanna Kosciewicz, Luisa Messina;
Streator: Caylee Carter, George Farris, Bethany Flori, Helen Krieger, Brittany Retoff, Nora Sedlock;
Tiskilwa: Natalie Pennock, Hailey Schindel;
Utica: Buffy Hoskins;
Wedron: Kerri Donahue; and
Wyanet: Lisa Elmore.