Genesis's 1972 album 'Foxtrot' still relevant today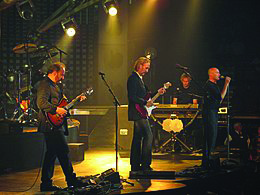 By 1972, progressive rock had become a household name in the realm of music everywhere. An excellent example of one such album is "Foxtrot" by the English group Genesis.
Consisting of artists who would go on to create successful solo works such as Phil Collins and Peter Gabriel, "Foxtrot" is an album that propelled itself to become a staple in progressive rock and became a rising success for Genesis. Much of their work in this album, more or less, seems to tell some kind of a story for story's sake. Nowhere is this made more clearly than in the two tracks "Get 'Em Out By Friday" and the 22-minute epic "Supper's Ready".
"Friday" tells the story of an English couple attempting to pay the rent of their home but not having much luck as their landlord keeps raising the price. Little does the couple know that the head of housing is restricting human height by 4 feet to fit more people in the same building.
"Supper" takes up a majority of the album, but is the ultimate highlight of the entire album and of the early career of Genesis. Two lovers seem to be sharing the same dream of war and peace all taken throughout the thoughts of their own minds. A "story within a dream" seems to be the song's purpose—to create a vision unlike anything in the ordinary.
The album became a modest success with critics and audiences in the United Kingdom but didn't achieve much success in the States until 1978 when Genesis was becoming a more familiar group, withering down from five members to three. "Foxtrot" is a staple of progressive rock itself and made Genesis a more popular group in the annals of music.