IVCC student selected as extra on 'Chicago Justice' episode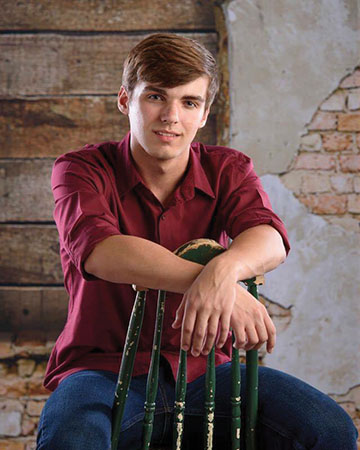 After being involved in 14 local theatre productions and directing a children's musical, IVCC sophomore Joshua Rinehart was ready to explore another aspect of acting. The student was chosen to be an extra on the set of Chicago Justice, a new NBC drama series that premiers March 1.
Rinehart saw a casting call for extras on a public Facebook page and applied, as he had the acting experience that the listing was looking for. Since this episode wanted extras with previous experience acting, applicants had to go through two tiers of directors to be chosen, making it somewhat difficult to be selected.
"If you match what they're looking for, you send in a picture of yourself and any information they want with it," said Rinehart, "And if you're what they want, they'll give you a call."
Rinehart along with eight other college-aged extras were hired to play extras in the newest Chicago P.D. spinoff, which focuses on a team of prosecutors and investigators that are a part of the justice system in Chicago.
"I had to go to Chicago for two days and got paid for both of them," said Rinehart, "Once to go get fitted by wardrobe and again a week after that for filming. The fitting was really fun and it was obvious from the start how nice the people involved with the TV show are."
Although the day of filming was long, lasting nearly 12 hours, Rinehart got to spend the day with and got to know several more experienced extras.
Rinehart described the set as an old abandoned warehouse next to a slaughterhouse, and the extras got to stay warm in a heated tent when they weren't needed. The day was filled with waiting, but the extras were given free food which included lamb and parmesan-crusted tilapia, while some of the extras did their homework while they hung around on set.
"When we finally started shooting our scenes, it was really fun!" said Rinehart, "I can't say too much about what we did in the scenes because the show hasn't aired yet."
He didn't have any speaking parts but he did some acting that was on-camera, which included a police interview scene. They didn't get to see any other scenes get filmed because they were in a holding area to ensure a quiet set and they weren't told when the episode they shot will air, so viewers will have to be on the lookout.
"I didn't meet any of the stars, but once I got fairly close to John Seda who plays one of the leads," said Rinehart.
Rinehart stated that he definitely wants to do it again, next time maybe over the summer.
"The experience as a whole was really fun to do," said Rinehart, "It was really interesting to see how everything works behind the scenes firsthand."