Actress Elizabeth Voitik brings experience to IVCC stage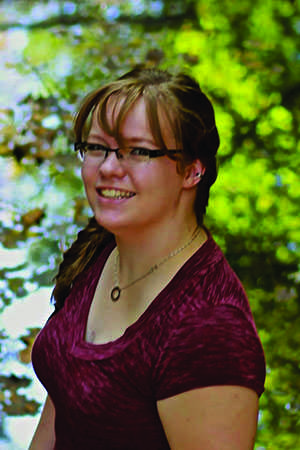 Elizabeth Voitik, 23, of Princeton, feels perfectly at home on the stage and has since she was a fifth-grader. Throughout elementary, high school, and college, Elizabeth has appeared on the stage numerous times.
"The first time, it was in 5th grade, a sort of speech competition. I was a shy child, but loved being on the proverbial stage," she recalls.
Her school might not have had a real stage in their gymnasium, but Elizabeth and a friend stepped up anyhow to give a duet speech every year for three years, earning second place the first year and winning first place the other two.
After leaving J.F.K., Elizabeth attended St. Bede Academy and stepped up onto a real stage to perform during her sophomore year and onward. Describing performing as an "adrenaline rush," Elizabeth had no fear in playing parts such as the Maitre-d' in "Copacabana," Mrs. Mayor of Whoville in "Seussical," and the Giantess in "Into the Woods." When asked, Elizabeth explains there isn't any nervousness for her when she's on stage.
"It's so hard to explain," she says, "because I was told being on stage was a nightmare. For me, I'm sort of reclusive, but acting gives me an outlet for being creative. The people in the acting community are always welcoming to me."
Voitik has been involved with Show Choir at IVCC since 2012, though she wasn't sure she'd be good at it.
"My friend Andrew got me into it," she explains, though she claimed she wasn't able to sing or dance when she reluctantly signed up. "And then I discovered I can sing! I can dance! And I can dance very well." Voitik is currently one of the dance captains in Show Choir at IVCC.
Elizabeth has also been involved in several winter shows and spring musicals including "Xanadu" and "Gypsy." Another role she had in an IVCC play was Anne Dickey Wallace in "Legacy," a part that remains significant for her. "It was the first time I had a large role," she recalls. "I had a lot of fun working with her….trying to become her."
Though Elizabeth has graduated IVCC, she remains a part of the theater community and is planning to for a long time.
"As a hobby, most definitely," she says. "I always want to be a part of the community, on or off stage."