Actress Ashley Hurst brings experience to IVCC stage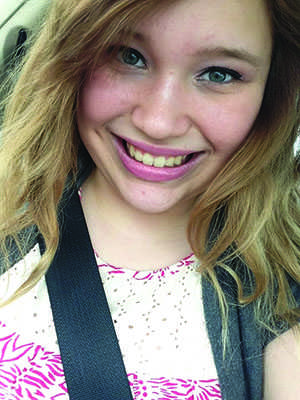 IVCC student and aspiring artist Ashley Hurst landed the role of Elizabeth Benning in Don Zellmer's spring musical "Young Frankenstein." Though this is not Hurst's first time as the lead in a theatre production, it is her first lead of this magnitude. With the full rehearsal schedule building up over the following weeks learning song, lines and dance, she keeps very busy. Hurst has always had a musical background and a lush array of actors and singers to draw inspiration from.
As a child, she grew up watching Audrey Hephburn and Goldie Hawn and listening to David Bowie and Celine Dion. When asked about past experience on stage, Hurst detailed a list of small roles of ensemble or one-liners in school productions like "High School Musical" and "Dear Edwina." She did land the leading role of Dorothy in "The Wiz" and cultivated her acting skills there, deciding then after three full-house shows that that was what she wanted to do.
Hurst has a distinct talent for the theatre, and through that she has an expectation for every acting performance whether she is in it or not. From that perspective, she describes herself as her own biggest critic; knowing what she is capable of and what kind of performance she churns out has affected her in the past. This is common for any artist; what may seem "good" to an outsider processes as "horrible" when the artist is not in tune with their work. Artists critique ourselves in order to uphold a standard that they feel that they need to meet and sometimes the judgment they pass on their art can affect their ability to continue.
She states that working through improv and the musical has been helping her build her performance on the stage and her ability to better portray characters. She has thrived at IVCC, and if she still struggles with confidence on stage, it never shows.
"It's nerve-wracking," says Hurst when asked how she feels about portraying an infamous role.
"Young Frankenstein" is an honorary cult classic and the musical a triumph in its own rite, and the announcement of the production has unearthed a loyal following in the Illinois Valley. The role of Elizabeth is the bawdy leading lady of the musical, with three solos and an extravagant stage presence. Taking into consideration the expectation for the role, Hurst is determined to take the stage with her interpretation of everyone's favorite bride.
"Mel Brooks is a genius. The entire script is quick-witted and just so funny you have to really be paying attention to get the jokes. I like that kind of humor." Hurst feels that this is mostly attributed to the chemistry of the cast and how well they work together. In her second semester as a student here at IVCC, Hurst has assimilated into the close knit arts family here at the college and embraces her stage gifts. She is surrounded by great talent and that in itself inspires her to want to excel in every role.