Improv troupe spotlights abilities, not disabilities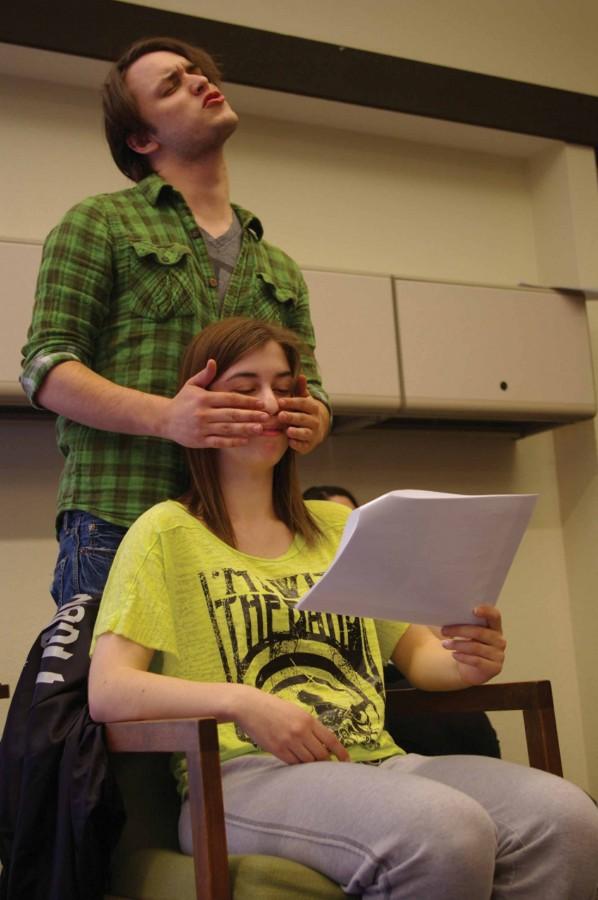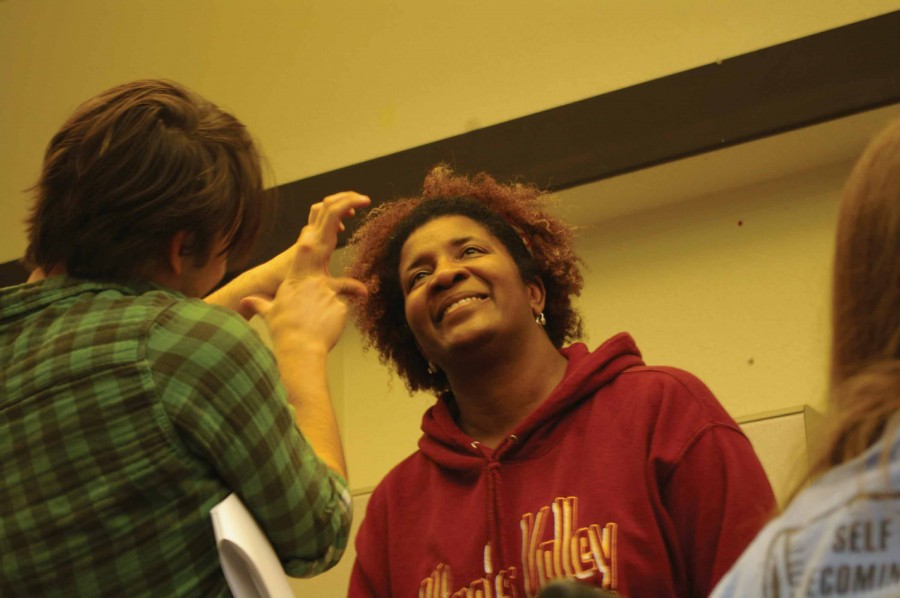 The touchy-feely moment might make schoolchildren squirm, but it would drive home an eye-opening message.
Actress Leighton Williams was teaching actor Jacob Jakielski to "see" her as she saw him – through touch. Standing slightly behind Williams, Jakielski traced her cheeks. He called her beautiful. She invited him in for a kiss. Cue the squirming grade-school set.
The message Williams – in her role as a blind woman – drove home was how she could perceive the world without one sense. An inability to see produced other abilities.
As the skit ended, an appreciative silence from their improv troupe companions erupted in applause. Giggles and wisecracks that had flown fast and furious during rehearsal amid missed cues, verbal hiccups and late-afternoon exuberance had long since subsided as Dr. David Kuester's theater improv group got down to business.
The group was about to face a critical audience — students at Trinity Catholic Academy in LaSalle who had written the skits and would recognize the characters they created. The college students fleshed out the characters, brought order to the plots, and would perform the finished sketches to the school audience. All the plots dealt with acceptance, tolerance and understanding people with disabilities.
The school program is a collaboration between IV's theater department and Peru-based Horizon House of Illinois Valley, and is part of Horizon House's awareness campaign.
Each year an area school is invited to write stories, with tolerance the central theme. Youngsters get a writing lesson and the college students use their acting and scripting talents to breathe life into the characters.
"In the process, the kids write the story and supply the characters and we apply it to something tangible," Kuester said. Also in the process, the college students perform a community service, he added.
"We get some cool stuff to work with," says sophomore Yvette Lucas. "Every project is different. There's always something new," agreed sophomore Anna Klobnak.
Characters can come in many forms – one sketch even breathed life into vegetables — and the college students never know what role they'll inhabit. Sophomore Mia Carretto, who was a mozzarella stick in a past production, recalls vividly taking a lead role. "It was such a cute play!"
This year's skits carry the audience to an amusement park which isn't accessible and to a baseball field and a volleyball court where hearing aids and a wheelchair are all key ingredients. From dozens of submissions, the improv troupe selects those that seem to translate the message best.
The message of inclusion and acceptance is powerful, and it rebounds.
Kuester recalls tearing up when one young author, a victim of bullying, was recognized and applauded at a school assembly. Lucas remembers performing nervously before an instructor whose child attended the school. "I saw her in the audience and she was clapping! She said (the performance) was all her son talked about afterward!"
More than one troupe member faced similar anxiety and ostracism not too long ago. Jakielski's advice to one youngster came from the heart. "I wanted someone to tell me (when I was younger) that it would get better," said the IV grad. Jakielski was diagnosed with a mild form of autism, and his plunge into theater as a teen – and the recognition of his issue – changed his life.
Klobnak remembers how she used to be awed when college-aged students came to visit. "When I was a kid, I wanted to be those college kids and help out. Now I can be on the other side. It makes up for all the sleep deprivation I've had this semester!"
Williams wanted to share her love of theater by showing children that theater – improv — can be spontaneous and fun.
The diverse members of the troupe have found a home among friends. Alumnae Megan Norlin used to believe the wheelchair she uses sets her apart, but here she blends in. "'Disability' is a small word with a lot of different meanings. It's not just a wheelchair or a missing leg. It means you're different," she says.
Differences are precisely what give the troupe its vibrancy, says sophomore Perla Escatel. "We have different qualities and you bring us together in our strengths and weaknesses and we cooperate" to put together a performance. As sophomore Tim Allison names his contribution — "reassurance" – other members nod affirmatively. Carretto's contribution? "Energy. I'm really loud!" Improv's quicksilver nature helps her focus. "It's always changing, and so am I, so it's easy to keep up."
As the sketches end, actors confront the audience as themselves and share their experiences with intolerance. Freshman Steve Short remembers being treated differently by classmates because his mother had multiple sclerosis. Now being part of the improv troupe "helped break me out of my comfort zone. I'm not afraid to be myself."
Jakielski summarizes the improv troupe's gift to the community: "When I was in junior high, I would have given anything to have someone to look up to who showed me how to be kind and how to take the time" to get to know and appreciate differences.
Leave a Comment