The Beautiful Mind experience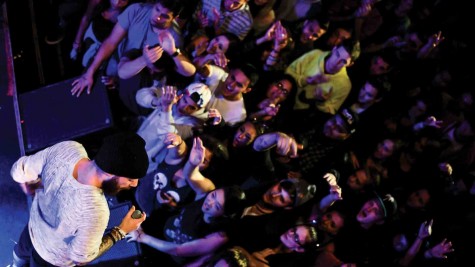 Certainly there was a special energy in the air of Chicago on the eve of Halloween; an energy matched by Jon Bellion and the Beautiful Mind experience in their attempt to leave an impression to their Chicago fan base.
The Subterranean, a classic club of Chicago, held around 300 energetic fans for Jon Bellion and his band to perform for, and perform they did.
Opening act, DJ Rhetorik, mixed many styles of hip hop, dance, and classic hits from the 90's to energize the crowd.
This diverse set was a perfect warm up to an artist like Jon Bellion with his hip hop rooted funky pop sound. Jon's powerful voice and creative song construction fuses so many styles of music together that it may be better to leave his style unlabeled.
Touring for his 4th mixtape release, The Definition, this young artist utilized his time well during his four year career, from signing with music label Visionary Music Group, to writing the chorus to the hit 'Monster', by Rihanna and Eminem.
Jon keeps his fans busy too, by connecting them to his musical process and creative product with six music videos and ten 'making of' videos that show Jon creating one of his tunes from scratch. Not only has Jon gained a large fan base in his early career but a devoted one as well.
The crowd repaid Jon for his work with a constant roar of appreciation from the start of the first song all the way through the encore.
Jon's band consisting of two percussionists, a pianist, guitarist, bass player, a back-up singer and a rapper showed off their diverse talents throughout the show. This great mesh of musicians made for an eclectic sound that could have entertained any music fan in any venue that night, which is perhaps one of the goals of the Beautiful Mind tour as it travels across country to 24 venues in only 35 days.
The Chicago show was just right and Jon's charisma was on point. There was a constant groove with seamless transitions that ran off many of Jon's hits as well as some covers, like a reggae song mixed with 'Roxanne' by The Police.
The band's live interpretation of Jon's songs made for such a unique show with no constraints on what type of sound could be created on stage.
Playing in a small venue was a perfect match for Jon's humble demeanor and positive energy that infected the whole crowd.
Enjoyment was the only feeling that arose that night, a true happiness to be a part of the show or more appropriately, the experience: The Beautiful Mind experience.
Leave a Comment