Success with unlikely pairs: Redefining Genre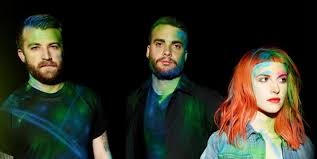 Why not push the boundaries between genres? New genres of music are being formed and musical diversity is yet to cease. Music is consistently redefining itself through time and it is testing cultural boundaries throughout the world.
The reliable bond that music conveys has not just brought people around the world together, but it has educated many people of diverse cultures. Music allows us to express ourselves and share ideas.
Recently in our growing pop culture, there has been experimental sound that many can't help but be intrigued by. The fourth single, "Ain't it Fun," from alt-rock band Paramore's self-titled album released in 2013 is definitely worth the listen.
The instrumentals include xylophone, bass guitar, percussion, and a gospel choir. Throughout the song there are inventive elements that catch your attention instantly. The arrangement has unexpected choral vocals, backing up lead singer Hayley Williams, that add a level of catchiness. Recently, not many others have portrayed the funky-rhythm and appealing sarcastic/negative attitude that Paramore uniquely crafted in this top-rated hit song.
Even though there is a sense of sarcasm revealed in this song, the piece is consistently upbeat and joyful. With the addition of the gospel choir in the refrain, the song stands out with its combination of genres, and the response the public gave was remakable.
Another reference to the increase in the deviation of the latest musical genres is the No. 1 single "Rather Be," by Clean Bandit.
The tracks instrumentation includes a violin, an electronic synth, bass guitar, piano, and vocals. When listening to this track, right from the beginning there is a noticeable uniqueness.
Without a doubt, the British quartet, Clean Bandit, has added a distinctive twist to the genre.
Classical and pop collide as they use violins and electronic beats as a perfect mixture to create an exotic yet distinctive sound. The public response went off the charts as this hit song and it moved its way up to the top.
Our definition of music is beginning to be challenged as we are experiencing the new combination of sounds that we have never been exposed to.
Leave a Comment