Hanck feels at home on stage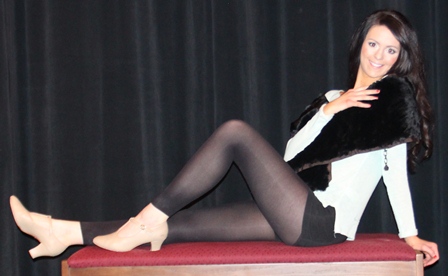 Practicing burlesque dance moves for hours each day is not commonplace for most college students, and even though many men would argue that a few good strip tease moves are good for a lady to have in her back pocket, it is not something you would bring up at family dinner.
But Emily Hanck does not fall in the category of most people, and those dance moves are not to pay off tuition, for Emily is an actress.
"Gypsy" is the next play on Emily's agenda of performances.
Louise, Hanck's character, is a burlesque dancer who uses her mom to help create her show. Unlike most people who would run from being so revealing on stage, Hanck loves the challenge in doing something new and unfamiliar. This is a trait Hanck most likely acquired from being in 16 plays and musicals over her career of performing, which started back when she was in seventh grade.
Although some may believe acting skills come naturally, Hanck said her skills always need improvement and she does not like to boast about her talents. Still, Hanck said, "I have been able to sing since I can remember."
Hanck continued to build on her skills of dancing, singing, and acting through junior high and had her first big chance to showcase them with a musical called "Back to the 80's." It was Hanck's sophomore year of high school and her first lead in any play. Hanck loved the experience and kept the ball rolling by leading in eight more plays and musicals before the upcoming "Gypsy."
Hanck has performed high school and college plays and has worked with the Engle Lane Theatre in Streator and Stage 212 in La Salle. Consistently practicing and performing for plays since seventh grade, Hanck said that you must have great organization to stay involved with everything you need to be. For Hanck, this means going to school then directly to work and finally a five hour long play practice to end her day.
Hanck's sacrifice of time does not just affect her but her friends as well. "Your friends must understand," said Hanck. She elaborated saying that her friends must accept that she is going to miss a lot of things for her work and that they have to be cool with that.
Hanck said that she has been blessed with caring friends. Hanck also said that a good majority of relationships that she has are from people associated with her performances like cast members or supporting fans.
Hanck frequently referred to her cast members as family during our interview and it became clear that to her performing in a play was not an obligation like going to work or class, but more like the reward after a hard day's work. To Hanck, performing is living. It is where she wants to be.
On the topic of her future, Hanck is keeping her options open but said that she does want pursue a career in theatrics.
She wants to go to Colombia to be a theatre major with a focus on acting. Regardless of what happens, you can bet that Hanck will be on stage for years to come.