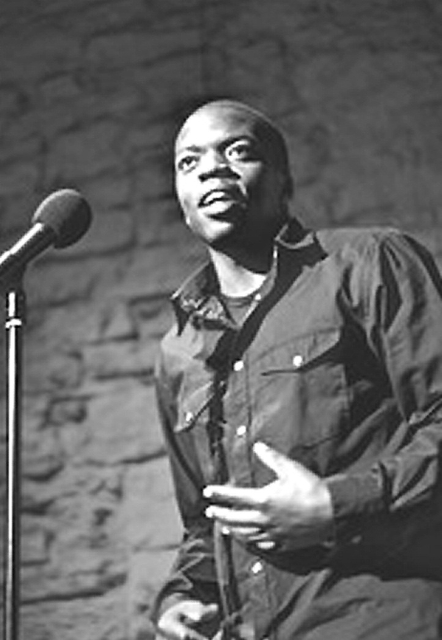 The IVCC Diversity Team has announce the comedy duo, CoMeTRy, will perform at noon Wednesday, Feb. 26, in the IVCC Cultural Centre in celebration of Black History Month.
CoMeTRy is an exciting, energetic new art form that blends performance poetry and stand up comedy into clean, clever, observational entertainment.
Each performance is designed to highlight the similarities, habits, and traits that we all share, but often go unnoticed.
Every CoMeTRy piece or "coem" does a few things: it tells a story, raises awareness, or delivers an inspirational message, all while making you laugh.
CoMeTRy is the unique pairing of an African American poet, Ignatius "Iggy" Mwela, and Caucasian American standup comedian, Chad Songy.
Iggy didn't experience an average adolescence. From struggling as a homeless teen to excelling as a college graduate and successful performance artist, Mwela is truly an African-American with a story to tell.
He has a way with words and a flair for flirting with language. Capturing the title of 2009 Grand Slam Champion, thus sealing his membership on Chicago's Mental Graffiti poetry team, Mwela excelled as an artist alongside Chicago's finest authors, poets, and performers.
Demanding your attention through the power of his words and presence, Mwela's poems strike an array of topics.
Iggy's partner, Chad, has a gift for creating and sharing laughter.
Chad is the co-founder of the Laughs 4 Kids Charity Comedy Show in Jackson, Miss.
The charity show, which has raised several thousand dollars to date, benefits the Mississippi Families for Kids, a nonprofit organization dedicated to finding permanent homes for children in the child welfare system.
Chad's involvement with stand-up comedy began at the age of 17.
From the beginning, Chad has provided audiences with a clever, observational style of comedy that all can enjoy as the ironic and trivial aspects of human behavior are presented in a myriad of comedic skill.
A natural speaker, Chad has used his gift of comedic insight to bring laughter and inspiration to over 40,000 students across the nation.
CoMeTRy is touring Illinois and Wisconsin throughout the month of February, visiting college and university campuses across the state.
IVCC is the last stop of CoMeTRy's tour.
"We are really excited to be able to have this group on our campus," said IVCC Diversity Team Chairwoman, Amanda Cook Fesperman.
"We hope that people throughout the community will come to the campus for this performance, and that they will be entertained as well as enlightened."
The event is free and open to the public.
For additional information, you can contact Amanda Cook Fesperman by calling 224-0203 or by contacting
[email protected].