Celtic Rat Pack performs at Irish Night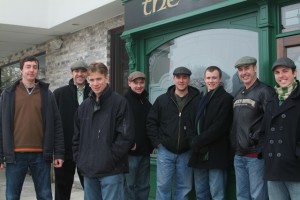 The Larkin and Moran Brothers band of Chicago willreturn for the Illinois Valley Community College Foundation's 10th annual Irish Night dinner/auction celebration Saturday, March 1 at Senica's Oak Ridge.
Doors open at 5 p.m. followed by dinner at 6 and the band from 7 to 11. Admission is$50 per person.
An Irish buffet of corned beef and cabbage and another entrée will be served. The evening, sponsored by Hometown National Bank in La Salle,will also feature raffles and auctions.
For information or to reserve tickets, call Donna Swiskoski at (815) 224-0551. Visa, Master-Card, Discover and American Express are accepted.
In 2008, the Irish rock band featuring Dan, Dan Jr., Mike and Joe Larkin, Terry and Kevin Moran and Neal Sullivan, drew a record Irish Night crowd of 300.
Widely considered one of the most sought after Celtic bands in the Midwest, "The Larkin and Moran Brothers have a sense of fun and energy that is rare these days (in Irish music)," said Shay Clarke of the Irish American News.
The band has produced five CDs including, "Kerry Piper Live" (2000), "Band o' Brothers" (2003), "Paddy" (2007) and Eistigi (2011, available at Amazon and on iTunes).
They've performed in LasVegas, Milwaukee's Irish Fest, Chicago Symphony Orchestra Hall, Navy Pier and the Park West and across Ireland including Killarney, Dublin and Galway.The band has also performed live on Fox News Chicago and the Steve Dahl Show.
All proceeds benefit the IVCC Foundation, which provides over $200,000 in scholarships to more than 200 students annually. Since its founding in 1976, the Foundation has invested over $2.2 million in IVCC students, according to Foundation director Fran Brolley.