Diversity Team events Honor Black History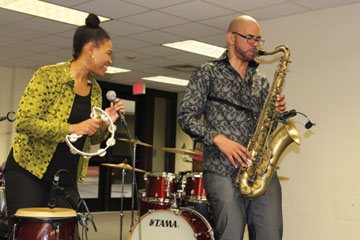 Free soul food and a musical performance was available to students on Feb. 1.
The event gathered an enormous crowd and introduced a lot of culture and fun to kick off Black History Month.
Some of the foods included fried chicken, fish, greens, macaroni and cheese, corn bread, fruit, rice pudding and peach cobbler.
The drinks were sweet tea, lemonade, and ice water with fruit. Students enjoyed the food, which was organized through the Diversity Team and caterted by Country Catering.
The event included live music from the Charles Walker band, who are from Milwaukee, WI.
The band included a drummer, a key boarder/saxophonist, and a vocalist.
They had it set up so students could enjoy the food and music together to engage students with the culture.
On Feb. 6, Kevin "3a.m." Smith presented his poems in the poetry slam. His original nickname is Bam. He changed it to "3a.m." when he had a banner with Bam written on it and a lady asked why it said 3a.m.
He then adapted the name and figured it meant more to him than his previous nickname.
"3a.m." Smith began poetry in the fourth grade. He was shy and was in a literature class.
He enjoyed performing poems, but it took him time to be able to perform his self-written poetry.
His greatest inspiration is his father. He has even wrote some poetry about his father called "Father Forgiveness."
During his performance, he emphasized that "we all need people to take us to the next level" and continued with this theme, talking about his successes and struggles.
His goal as an artist is to connect with audience members and entertain in a way that makes a difference.