Theater students perform 'Dames at Sea'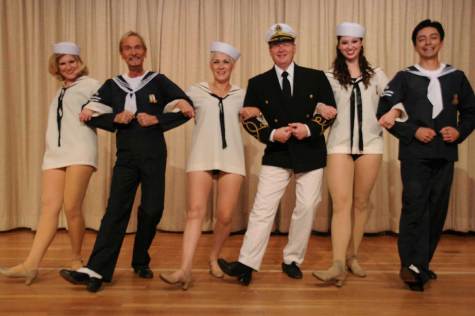 Ahoy! The captivating musical "Dames at Sea" will sail its way onto the St. Bede Academy theater stage Oct 16-19 and 23-26 the following weekend. Show times are 8 p.m. Thursday through Sunday.
Tickets are available free for IVCC students with a student ID, $15 for the general public, and $10 for seniors over the age of 65 and children under the age of 12. It is respectfully requested that no guest under the age of 6 attend this production.
"Dames at Sea" and all of the future IVCC productions for this season are going to be held off IVCC property, due to ongoing construction in the IVCC Cultural Center. They are installing a brand new sound system, whichr is expected to be completely finished by next spring.
"Dames at Sea" is described as a "tap-happy, navy-crazy celebration of the golden era of movie musicals with a heart as big as an ocean! "Dames at Sea" tells the story of Ruby, who steps off a bus from Utah and into her first Broadway show. But hours before the opening night curtain is set to rise, the cast learns that their theater is being demolished. With the help of some adoring sailors, Ruby and the cast set a plan in motion to perform the show in a naval battleship."
It features "rollicking tap dancing, love at first sight, joyful music and a boatload of laughs, this glittering musical extravaganza has everything you need for an unforgettable night at the theatre." according to www.DamesAtSeaBroadway.com.
The performance is directed and choreographed by Don Grant Zellmer, who gives a brief description of "Dames at Sea" as "a wild comedy spoof, based on several marine musicals from the 1930s, that triggers laughter and is a show strictly for fun."
Zellmer as well as IVCC staff member and music director of this spectacular production, Norm Engstrom, are both performing in the production as well.
Beyond the fact that he is rather familiar with this particular show because he has performed in 12 productions of it all across the country, Zellmer chose to direct "Dames at Sea" because every time he has been a part of the show, it has never failed to make him laugh. He says, "It's silly and flat out fun, and it is easily one of the funniest productions I know."
This specific production is very unique because it is comprised of students, faculty, and community members all in one cast. The comedic show consists of rather familiar characters like "the reigning Broadway diva, the girl who always wanted to "make it big," the tough chorus girl, the singer/songwriter sailor with his dumb side-kick, and many more.
Community member, Karen Lesman, who is playing one of the major roles, 'Mona Kent,' recommends coming out to watch this charming production: "It is the perfect evening entertainment with enjoyable music and dancing."
IVCC student, Clarissa Gerrard, playing the major role of 'Ruby,' also comments on why people should attend this exciting, fun, and entertaining production: "It's a hilarious comedy, and there is something for everyone to relate to. It's full of love, passion, and life, and it is just an overall enjoyable experience."
So, if you are looking for a fun filled, exciting, and pleasurable night, sail on over to St. Bede Academy and you won't be disappointed!
Leave a Comment